This amazing restaurant jointly owned by two outstanding chefs — Vietnamese-American Anh Tuyet Cao and her husband, Georgios Tsinivits, born in northern Greece. The two have combined their talents to come up with a tempting, fresh, and healthy range of tastes that customers can combine into customized-Bowls-Pita Wraps of lunch or dinner fare.
Finally! Healthy eating has arrived in Boca Raton. It's "Orion Fresh Mediterranean, " a tiny gem tucked away in the Boca Raton Shopping Center.
Orion Brings Fresh Mediterranean Dining in a Bowl to Health-Conscious Boca Residents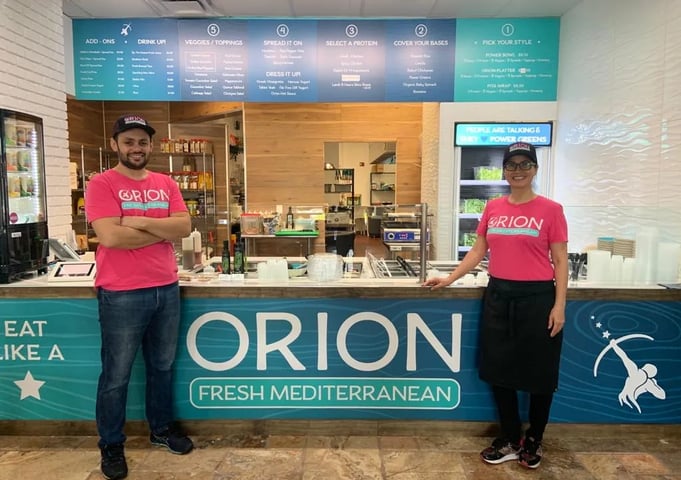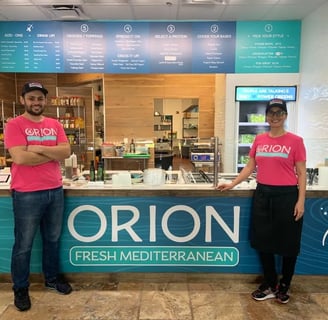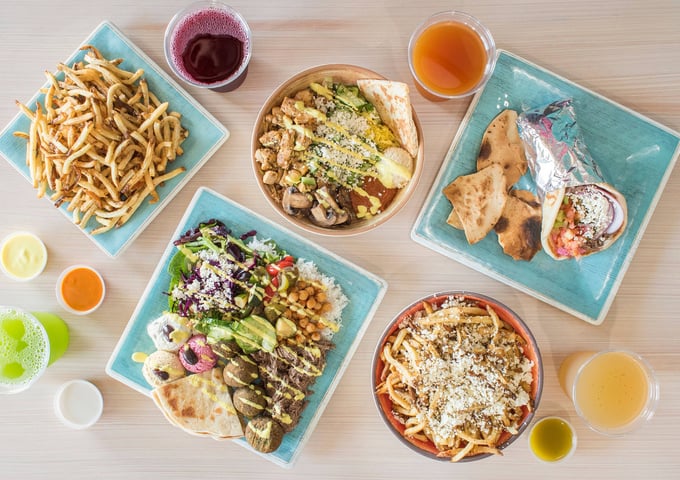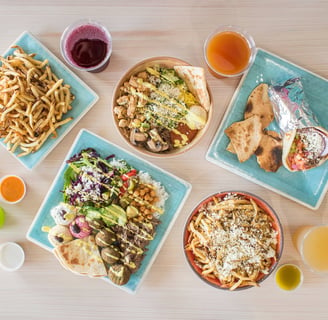 It's a joy to eat one of these long with the exotic-flavored fruit tea concocted by the pair with names that reflect originality such Havana Mojito( mango green tea with lime & mint), Hibiscus & Mint, and my favorite, Hibiscus Watermelon Mint Margarita tea, — all in a virgin state. A tall, refreshing glass of any one of these provides the perfect complement to the menu — fresh vegetables, rice, greens — topped with mouth-watering meats — all put together to the patron's wishes in a convenient "Bowl, Pita Wrap or Platter"
Yes, Orion is following the trend that Boca residents seem to want these days — a customized meal served the way Chipotle and Bento do — in a bowl. But unlike Chipotle, there are no hidden calories, just fresh, tasty ingredients. Plus, there are no distracting, loud crowds. The atmosphere is purposefully calm and peaceful — with sky blue Mediterranean walls.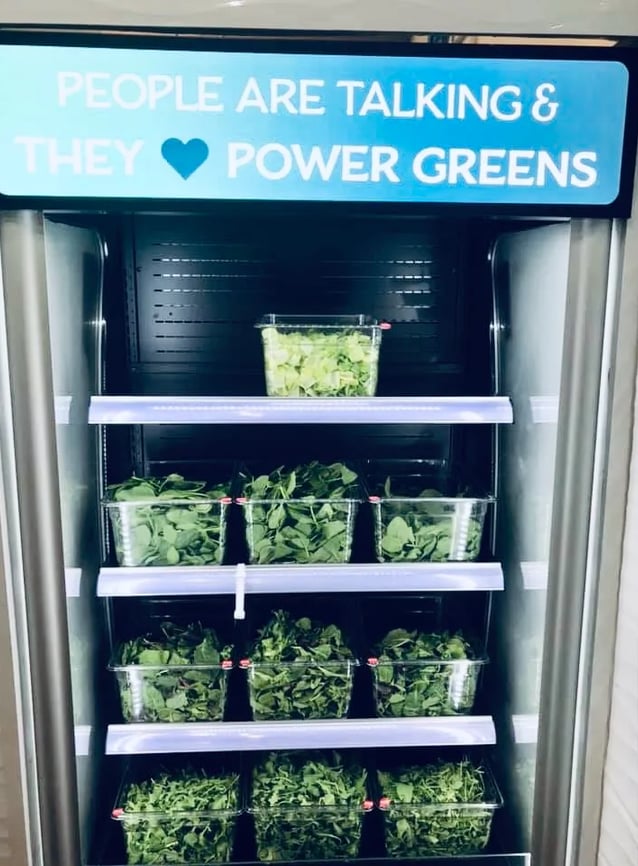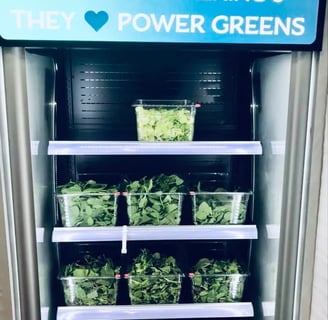 Ordering my first "bowl" at Orion, I watched the chef put together the exact ingredients I asked for: Romaine lettuce and spinach — from a unique refrigerated wall cabinet for "greens" behind the counter. Then he added the veggies I preferred like red pepper, mushrooms, and zucchini. Finally, he topped everything with braised lamb I couldn't resist. The aroma had been calling to me ever since I walked up to the counter. Georgios told me the marinade was inspired by recipes from Georgios's mother and grandmother — back in, Pelargos, the northern Greek village where he grew up. As I savored my dinner, the woodsy, tart flavor of the meat transported me to a time when I was eating outdoors at a restaurant in Tarabya, a neighborhood in Istanbul, located right on the Bosphorus. That refreshing combination of flavors, plus my "Margarita" drink proved to be a perfect way to start a Friday evening, without letting me overeat!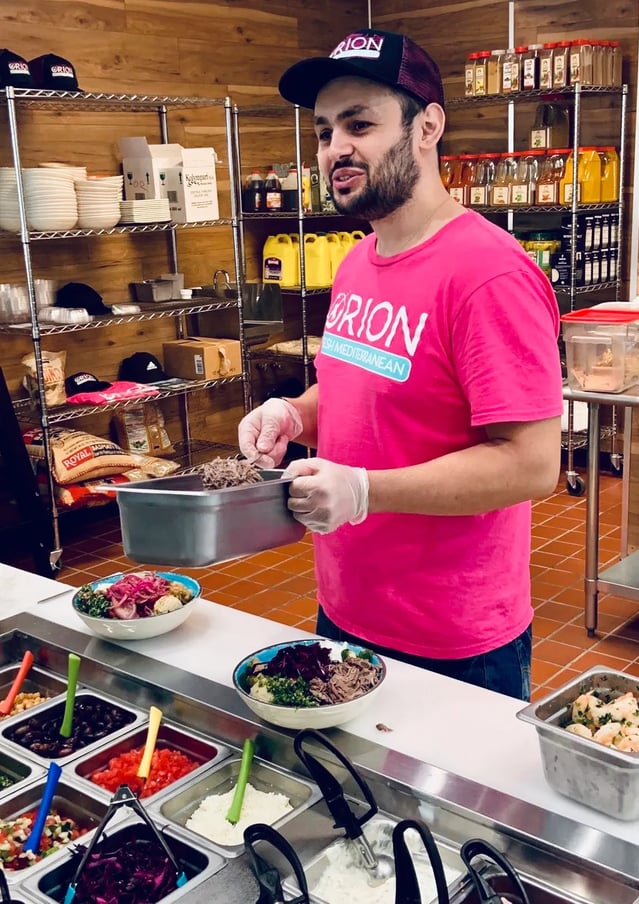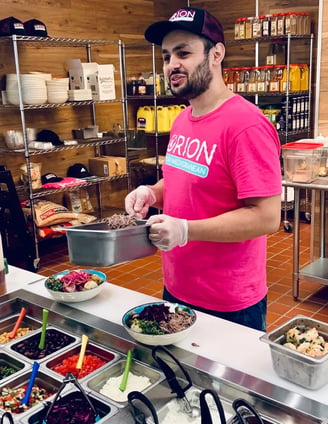 Georgios Tsinivitis, owner of Orion Fresh Mediterranean
Georgios was happy to explain his culinary philosophy to me. It developed as he worked in several American Greek restaurants, where he felt the food was sub-par and not authentic. He knew, after marrying Anh, that he and she could do better.
"Most Greek restaurants all serve the same kind of dishes like "Europita," he says, speaking about gyro wrapped in a pita. "These dishes lack the flavor of true Greek cuisine." Georgios's youthful memories of authentic Greek flavors, plus creative teamwork with his wife Anh, are what have enabled the couple to dream up new marinades for their meats and lighthearted, fresh fruity flavors for their teas. That is how Orion became a true gift from a pair of talents, providing Boca Raton with fresh, tasty Mediterranean food with an Asian twist in an informal, peaceful atmosphere.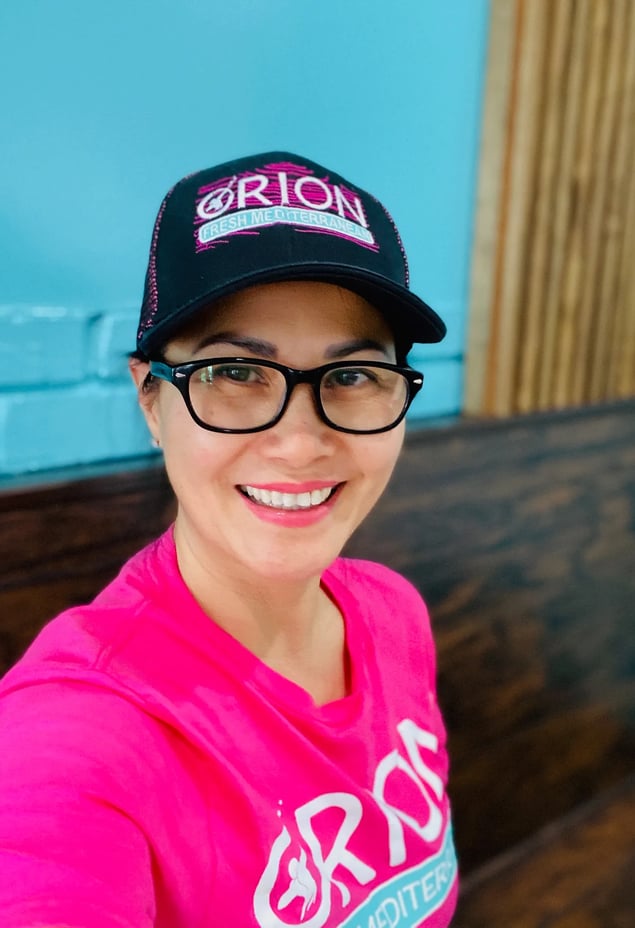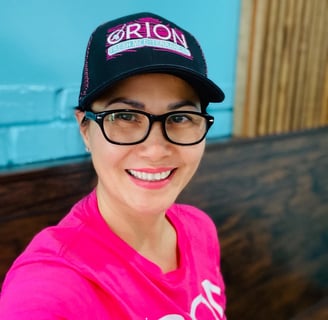 Anh Tuyet Cao, owner of Orion Fresh Mediterranean
What made the combination of vegetables and greens so satisfying? Chef/owner Anh told me, "In the culinary world, you have to marry the ingredients, and that makes the food more delicious."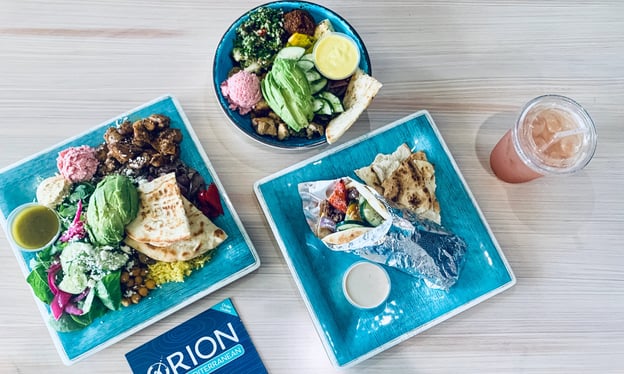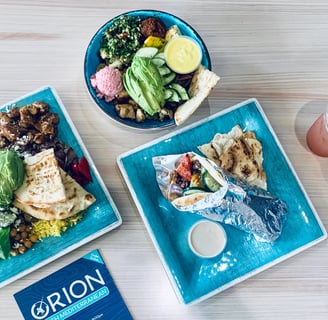 First, we eat. Then we do everything else Opa!
Orion Fresh Mediterranean
We're Build Your Own Restaurant serving the Greater Boca Raton & Palm Beach area, and making sure your Experience is remembered for all the delicious food.
hi@eatorion.com
+561-245-8606